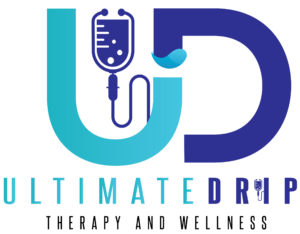 At Ultimate Drip Therapy and Wellness we makes health and wellness our priority. We offer the latest in non-surgical procedures, providing our clients with treatment options and consultations that allows our staff to create an individualized treatment plan.
Botox and other FDA-approved botulinum toxin is used to temporarily make moderate to severe frown lines,
crow's feet and forehead lines look better in adults. So you look like you, only with less noticeable facial lines.
Treatment requires minimal downtime.
You can return to your daily routine immediately after you leave your specialist's office.
You may begin to notice results within 24 to 48 hours, with  with full results in 30 days,
with results lasting up to 4 months for moderate to severe frown lines.
Our spa preferred toxin products include Allergan Botox, Xeomin, Jeuveau
Treatment areas : Forehead | Frown lines | Eyebrow lift | Lip flip | Bunny lines | Crow's feet
Dermal Fillers are a gel like substance that includes Hyaluronic acid that are injected beneath the skin to restore loose volume, smooth lines and soften creases or enhance facial contours.
Smooth out lines around nose and mouth (a.k.a. marionette lines, smile lines, and nasolabial fold)

Enhance & restore volume to sunken cheeks or temples

Diminish vertical lip lines

Plump & enhance the lips

Smooth out a chin crease

Improve symmetry among facial features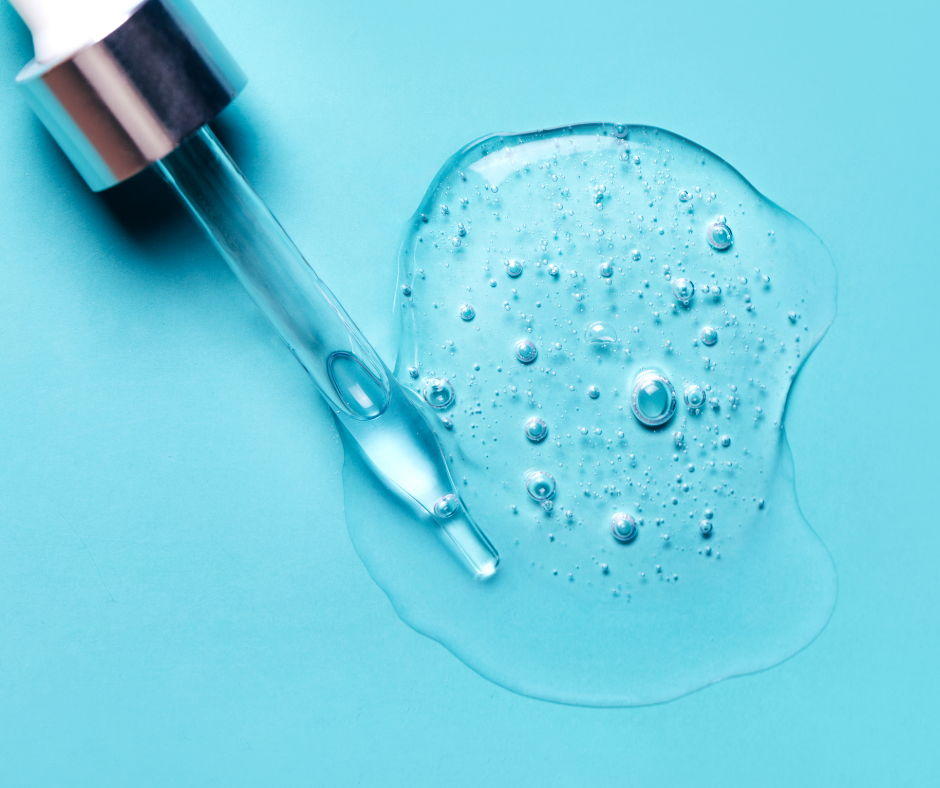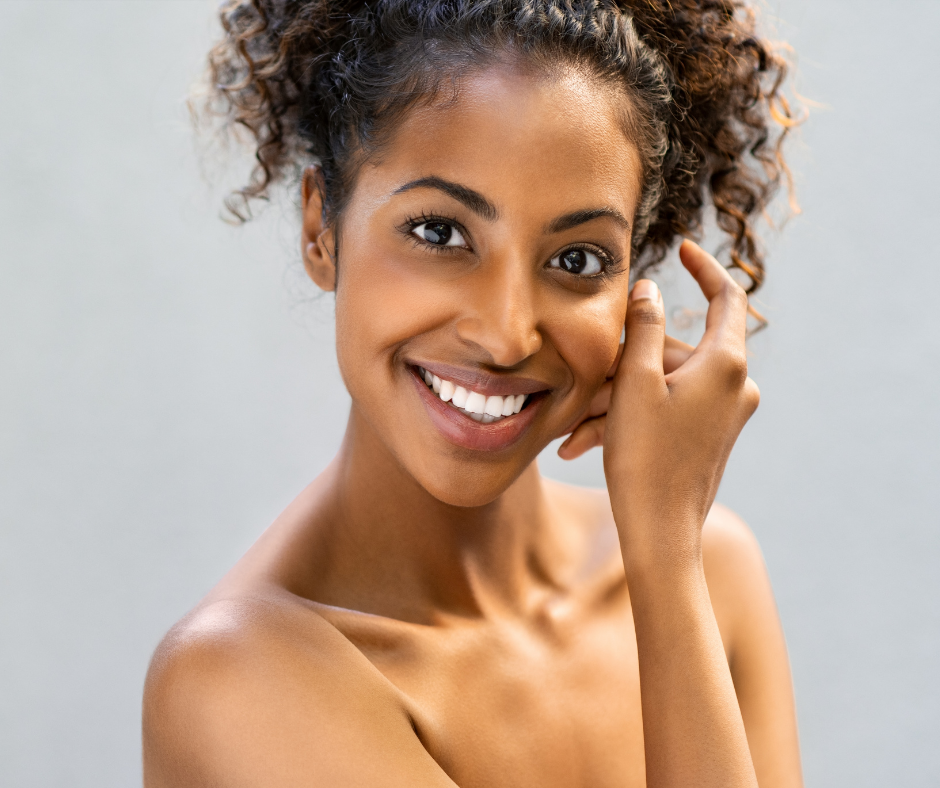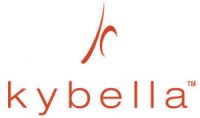 KYBELLA® is the only FDA-approved injectable treatment that destroys fat cells in the treatment area under the chin to improve your profile.
Are you unhappy with fat under your chin? Are you hesitant about surgical chin lift? You may be a candidate for Kybella. Call or book online a cosmetic Consultation to see if Kybella is right for you.
How is KYBELLA® administered?
Treatment can only be administered by a KYBELLA®-trained healthcare specialist. At each treatment, you will receive multiple small injections under your chin, and the injection process takes about 15 to 20 minutes. The exact number of injections will depend on the amount of fat you have under your chin and your desired profile. 
HOW MANY KYBELLA® TREATMENT SESSIONS WILL I NEED?
Since everyone's chin profile is different, the number of treatments varies from patient to patient.
Your healthcare specialist will help determine how many treatment sessions you need based on the amount and distribution of your submental fat and your personal treatment goals.
Each KYBELLA® treatment session is given at least 1 month apart, treatment session amount varies and you should not receive more than 6 treatments.
In clinical studies, 59% of patients received 6 treatments.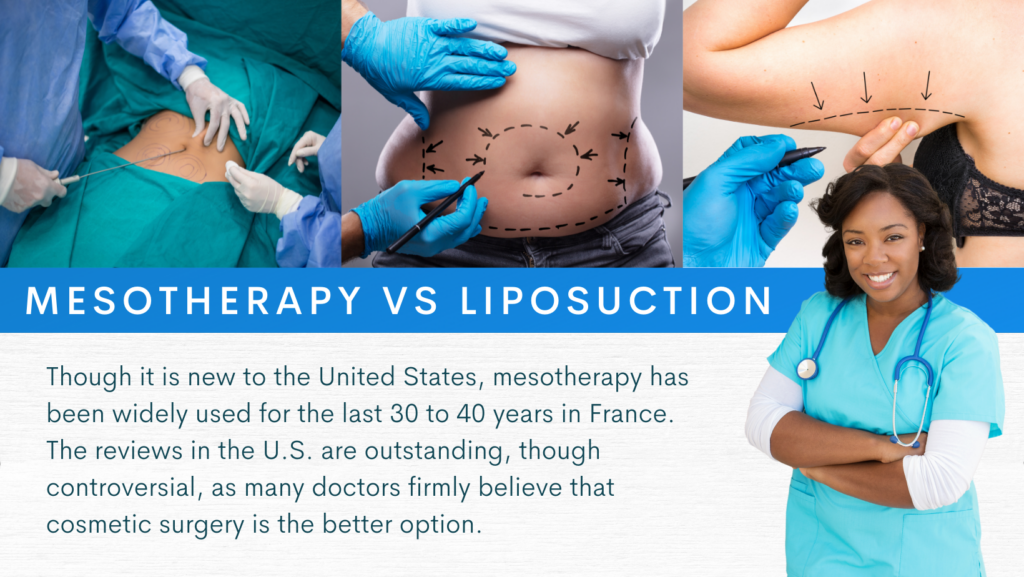 Mesotherapy treatment is a non surgical cosmetic solution aimed at diminishing problem areas in your body such as cellulite, excess weight, body contouring, and face/neck rejuvenation, just to name a few. It is administered via numerous injections containing various types of medicines, vitamins, and minerals. 
It is introduced into the mesoderm, the layer of fat and tissue underneath the skin. 
The content mixture of the injection varies in accordance with each unique case and specific area to be treated. 
Mesotherapy can also assist in reducing pain, and in replenishing hair loss in both men and women.
Yes, your teeth will lift between 2-12 shades whiter. People see the results right away, but it takes 24 hours to process completely.
It last up to a year, depending on your lifestyle (coffee, wine, etc).
WILL I EXPERIENCE SENSITIVITY?
Our products are designed for people with sensitive teeth so sensitivity is rare, but everyone's teeth are different. We suggest getting a BOOST Treatment to eliminate sensitivity.
PRP (PLATELET-RICH PLASMA) INJECTIONS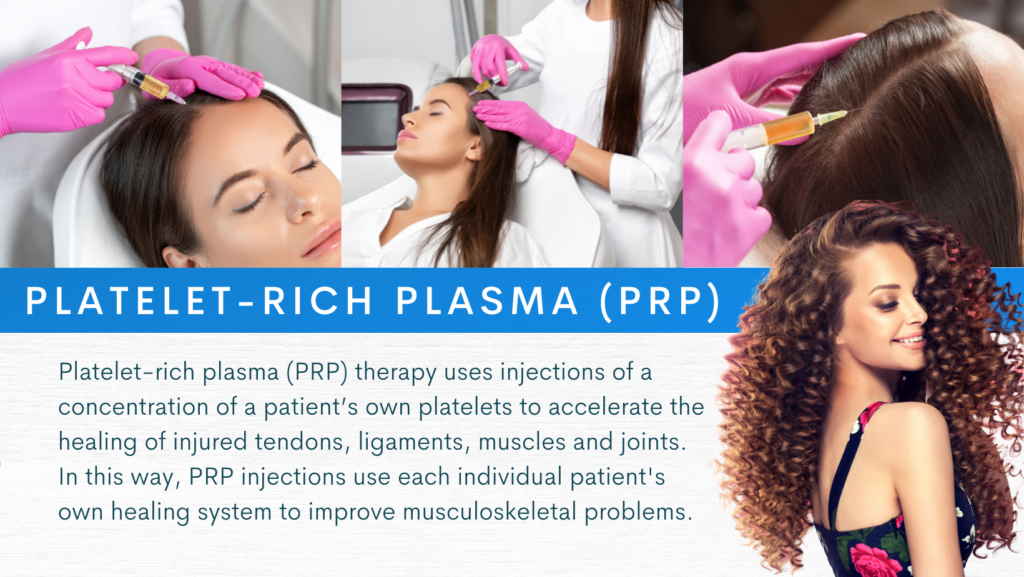 A trained medical professional will draw your blood using a specialized PRP kit, then placed in a centrifuge that separates the red blood cells and the platelet rich plasma. Then we extract the PRP from the tubing and inject in targeted area.
HOW LONG DOES THE PROCEDURE TAKE?
Depending on the area treated it can take 30-60 minutes from start to finish.
HOW LONG DOES IT TAKE TO SEE RESULTS?
Results will vary from client to client. You should start to see results within a month for facial rejuvenation.  You will notice skin rejuvenation and softer supple skin. Hair growth restoration typically takes 3-6 months from your initial treatment to see measurable results for hair growth.
HOW MANY TREATMENTS WILL I NEED?
Treatment determination varies, and research has shown that most clients who have received 3 or more treatments have seen better results according to American Academy of Dermatology Association.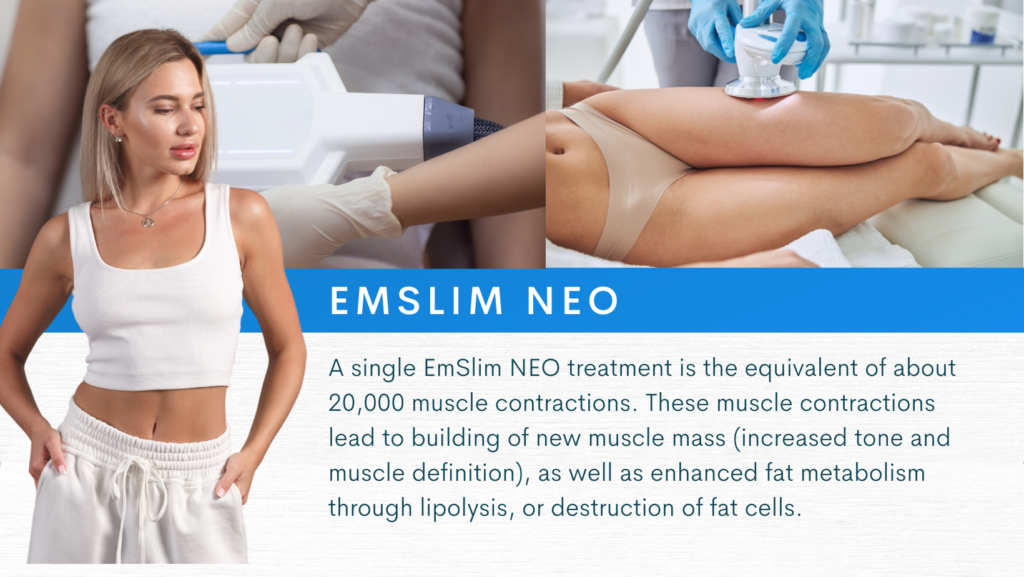 EmSlim is body shaping with magnetic waves — is a unique method to tighten the buttocks without surgery or to remove annoying fat deposits on the hips and abdomen non-invasively. During an EmSlim treatment, around 16% muscle is built up and around 19% fat is lost in the same process. The treatment helps in the long term to a toned and fit body image.
A single EmSlim NEO treatment is the equivalent of about 20,000 muscle contractions.
These muscle contractions lead to building of new muscle mass (increased tone and muscle definition), as well as enhanced fat metabolism through lipolysis, or destruction of fat cells.
EmSlim NEO burns fat and tones muscle in the targeted regions without pain, downtime, or sweating it out at the gym. You can of course continue a fit lifestyle at the gym, which we encourage. There is no downtime, though you might be a little sore in the treated area in a way that is similar to EmSlim NEO is, if you were able to properly perform 500 sit ups or squats every single day (How many do even 50 per day?), it would take you 160 days in a row to achieve what EmSlim NEO does for your body with just four 30-minute treatments.
HOW MANY TREATMENTS WILL I NEED?
Treatment determination varies. Treatments are done once a week for 4 weeks (some may require more treatments to fulfill their goals).